The subject line of this post is self-explanatory, but allow me to expand upon the wondrous nature of my favorite British former-Special Forces soldier – Bear Grylls. Thanks to Dlisted.com making him their "Hot Slut of the Day," I was reminded as to how absolutely beautiful this man looks covered in mud and vomiting up the grubs he ate for dinner the night before. The newest issue of Rolling Stone also features a full-page add for his Discovery Channel show, Man vs. Wild, which I drooled over then placed under my pillow last night. Kidding. Maybe.
For my fellow DSC addicts, you may think that Grylls is a pussy because he travels with a camera crew while filming his show (unlike Survivorman's Les Stroud, who hauls all of his own camera equipment and films himself). However, Grylls has done some pretty incredible shit that legitimizes his position as a pre-eminent outdoorsman (and he is more charismatic than Stroud, which makes for better TV). Grylls summited Mount Everest at the age of 23 (I'm 23 and the only thing I've climbed are the 3 flights of stairs leading to my apt while being blind-ass drunk) and this was after he broke 3 of his vertebrae in a parachuting mishap. And despite the fact that he named his second child (ugh… he's a baby-daddy times 2, this severely lowers my chances with him) Marmaduke (…MARMADUKE?), he is still totally bangable.
Please note: I do not care if parts of his show are staged. In fact, his hot, Anglo pronunciation of "mO-squi-tOs" alone is enough to keep both myself and my roommate Sara salivating over our flatscreen HDTV.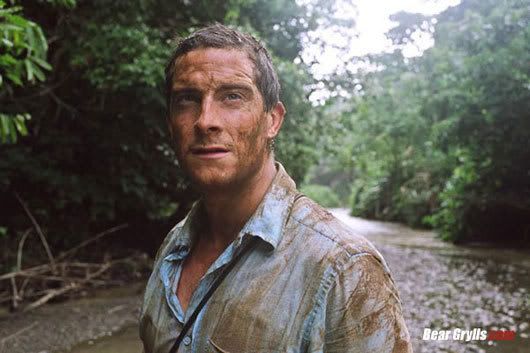 Need more of Bear? Check these sites out: